.
Kulturweg of religions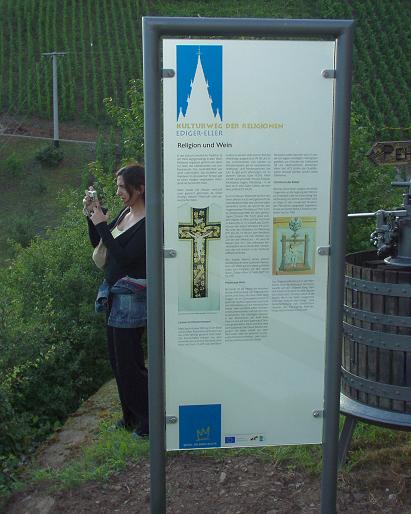 The 4 km long circular route of religions makes the importance of religions for the social, economic and cultural life in the village clear to the interested hiker.
The viewer should recognize their own roots, develop an understanding of the foreign and tolerance.
The Cultural Path of Religions summarizes the Celtic belief in nature, the Roman imperial religion, monotheistic Judaism and the resulting Christianity in a circular hiking trail.
Through interesting and varied information about other religions, the Cultural Trail aims to stimulate and invite meditation and discussion with and about people of other faiths in a peaceful and constructive way.
Overview map "Cultural Path of Religions"
More information:
Tourist Information Mosel Calmont Region, 56814 Ediger-Eller
Tel: 49( 0)2675-1344, E-Mail: info@ediger-eller.de
This article is already 40056 Once seen.
---
.