.
Bicycle Rental
If you are traveling by bike, there are much opportunities for exciting bike tours, whether for sporty Tekking tours or relaxed tours through the Moselle Valley.
Ediger-Eller is connected to the Premium Moselle Cycle Path, which starts in Thionville, France, and leads over 275 km to the Deutsches Eck in Koblenz.
The continuous, mostly flat and near-shore cycle path is separated from car traffic over long distances and gives unlimited cycling pleasure.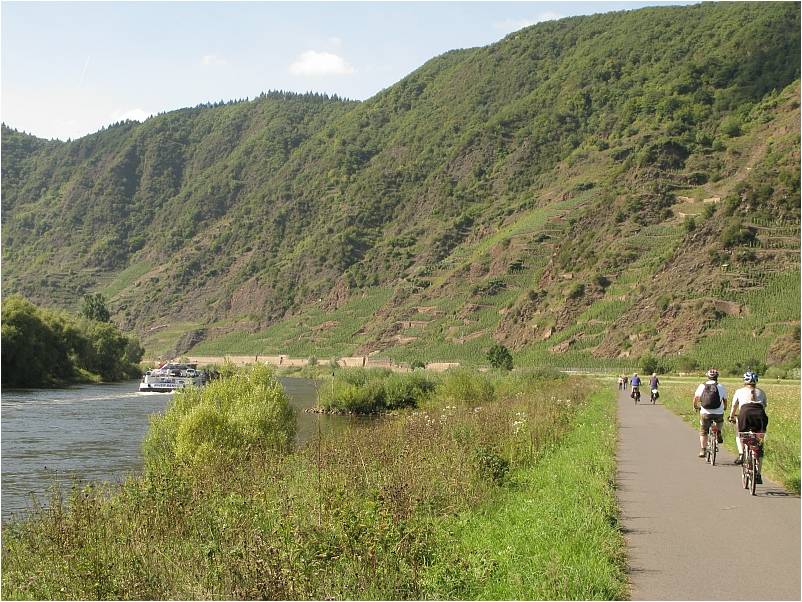 A lot of gastronomic offers along the route invite you to relax and linger in one of the most beautiful wine culture landscapes in Germany.
Attractive mountain biking routes offer the opportunity for sporty detours to the surrounding Eifel and Hunsrück heights.
Take advantage of the offers of the RegioRadler buses
HEAR, HEAR!
Listening points on the Moselle cycle path, also in Ediger-Eller.
Listen, discover and learn more about the scenic features and top sights along the way with the free "Lausch Tour App"
Cycling maps and further information about cycling can be found in our
Tourist Information Mosel Calmont Region
D-56814 Ediger-Eller
Phone 49(0)2675-1344
E-mail: info@ediger-eller.de
If you arrived without a bike, no problem. Bicycles can be rented in Ediger-Eller.
E-bikes, children's bikes and trailers are also available for you.
Bike:
Gas station Andre
Moselweinstraße 34
D-56814 Ediger-Eller
Phone: 02675-356
This article is already 65764 Once seen.
---
.