.
Wijn & culinair
Maar ook vele andere bijzondere wijnsoorten laten kenners van extra klasse genieten. Combineer de excellente wijnen met culinaire delicatessen uit onze regio. U kunt bij ons uit een groot aantal eetgelegenheden kiezen, bij ons terecht voor een eenvoudige snack, maar ook de fijnproever komt aan zijn trekken. Voor iedere beurs en smaak is er een passende gelegenheid.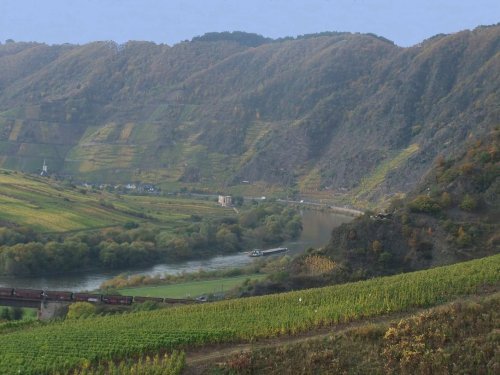 De ligging van de wijngaarden maakt het verschil. Belangrijk voor een uitstekende wijn is een goede bodem, het juiste klimaat en een wijnboer die dit alles in overeenstemming weet te brengen. Dit wordt kort samengevat met de uitdrukking "Terroir".
Menig sommelier in Ediger-Eller slaat graag een voorraad exclusieve wijnen in, zoals Eiswein of Beeren-Auslesen. Winzersekt is een prikkelende, licht mousserende wijn waaraan vele soorten champagne niet kunnen tippen.
Vermeldenswaard zijn de vele soorten brandewijn en likeuren die in de diverse stokerijen worden geproduceerd.
Ediger-Eller leeft met en door de wijnbouw. De lokale wijnboeren nodigen u graag uit hun wijnen te proeven of hun wijnkelders te bezichtigen.
Dit artikel 128566 aantal keren bezocht.
---
.